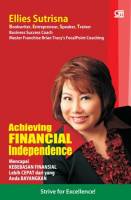 Achieving FINANCIAL Independence
Mencapai KEBEBASAN FINANSIAL Lebih CEPAT
dari yang Anda BAYANGKAN
Komentar Buku
• To become a doctor, you have to study medicine. It's silly and even dangerous to become a doctor without studying medicine ! This is so obvious ! Everybody we ask wants to become rich and financially independent. And yet 90% of these people NEVER read any books and learn the right techniques to become rich and financially independent! Impossible and silly ! This book teaches you EXACTLY what to do. If you want to become financially independent, then you ABSOLUTELY MUST read this book! Congrats Ellies for another great book ! Once again, MUST READ !
James Gwee
Indonesia's Favourite Seminar Speaker & Trainer
Penghargaan Rekor MURI "Pemekarsa dan Pembicara Seminar Umum yang Tematik dengan Variasi Terbanyak dalam 1 tahun"
Author of 3 consecutive National Best-Selling books "Positive Business Ideas", "Setiap Orang Sales Harus Baca Buku Ini" and "Setiap Manager Harus Baca Buku Ini"
Creator of Indonesia's first e-learning website www.SeminarSeumurHidup.com
• Anda akan menjadi seperti apa yang Anda pikirkan. Inilah salah satu konsep dasar menuju sukses yang dengan pas dirangkum dalam konsep "PIKIRAN" karya Ellies Sutrisna. Dan, jika semua itu dipraktikkan dengan penuh kesadaran, maka PIKIRAN akan benar-benar jadi jalan menuju kebebasan finansial yang Anda dambakan. Luar Biasa!
Andrie Wongso
Motivator no 1 Indonesia
•"Buku ini berisi tips-tips dan pemikiran yang segar dan penting untuk diketahui oleh siapa saja yang serius ingin mencapai kebebasan finansial. Baca dengan saksama, renungkan, dan kembangkan pemikiran yang terkandung di dalam buku ini sejalan dengan peta sukses anda dan raihlah kebebasan finansial yang anda impikan"
Adi W. Gunawan
Indonesia Leading Expert in Mind Technology
Penulis buku laris Quantum Life Transformation
www.adiwgunawan.com